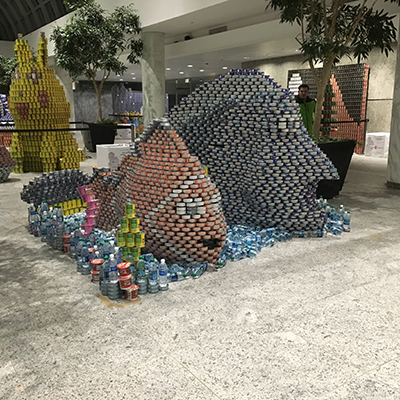 Uniondale, NY The 12th Annual Canstruction Long Island Design/Build Competition Canstruction exhibit will open on October 26 and run through November 12 at RXR Plaza. This is an annual international design/build competition that helps fight hunger in our local community. For thousands on Long Island, the day begins and ends with the anguish of hunger. Canstruction Long Island is determined to end this suffering.
At their event, teams of architects, engineers, design and construction professionals, and students that they mentor are given 12-hours to defy expectations, logic, and gravity as they build fantastic sculptures from thousands of cans of food. Driven by the knowledge that their structures will change lives by lifting the spirits of those in need, by raising public awareness, and most importantly, by filling the shelves of local food banks, dedicated volunteers work tirelessly to bring their creations to life. The following day, the super-sized masterpieces are judged in a variety of categories as this unconventional art exhibit is opened to the public.
The cost of admission: one can of food. At the end of the exhibition, all cans are donated to local hunger organizations for distribution to emergency feeding programs that include pantries, soup kitchens and veterans, elderly and day care centers.
Since 2007, Canstruction Long Island has donated over 440,000 cans of food to help feed our fellow Long Islanders. Over $550,000 has been raised by their participants, allowing our teams to purchase 175 tons of food, and providing 320,000 meals to hungry Long Islanders!
Canstruction is produced annually by Canstruction Long Island, Inc., an all-volunteer 501(c)(3) public charity, under the auspices of the Society for Design Administration. To learn more about us and our event, and to view past structures and videos of them being built, visit our website at www.canstructionli.org.