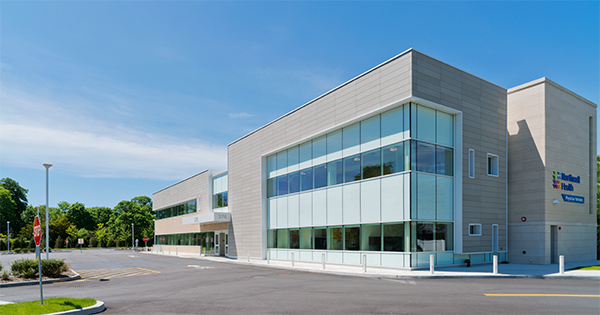 Bay Shore, NY Built to better serve the community, the newly opened, two-story medical building of Northwell Health offers multidisciplinary offices with board certified and fellowship trained specialists in general surgery, internal medicine, physical exams and a host of other services. Bohler Engineering was instrumental in partnering with the town of Islip, Suffolk County Departments of Health and Public Works, New York State Department of Transportation, and Suffolk County Water Authority to obtain approvals and develop the new site over two and a half years.
Bohler managed the greenfield site's overall layout, permitting and parking lot infrastructure, drainage and sanitation system, utility infrastructure and the landscape and lighting design. The completed project provides cross-access to the existing bank, its associated drive-through, and parking lot on the east side of the site to integrate the two buildings into a fluid layout. Working alongside TPG Architecture and the town of Islip fire marshal, a thorough fire access plan was developed to promote safe access for 23,000 s/f. Bohler and Northwell Health partnered on the design of GoHealth Urgent Care, a medical facility. Bohler provided the site plan design and permitting services for the project, which is slated to open at the end of the year.
Throughout NYS, Bohler has consulted on several, notable medical facilities and hospital campuses. As a trusted consultant in the healthcare market, the firm's extensive experience includes the Richmond University Medical Center, Long Beach Medical Center and Mount Sinai Beth Israel Comprehensive Cancer Center with services provided ranging from detailed emergency department expansions to complex demolition plans and ADA compliance.