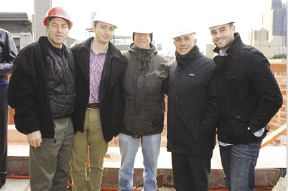 Shown (from left) are: Gary Spindler, Park-It Management; Matthew Namer, VP of development, Alfa; John Hauer; Michael Namer, founder & CEO Alfa; and Jake Namer, executive VP, Alfa. Photo Credit: Kristy Leibowitz.
Alfa Development's newest condominium in its Green Collection of sustainable developments, Chelsea Green, has topped out and sold all available units, including the building's four-bedroom penthouse. This caps off a sales campaign since the building's launch in mid-2012. Occupancy at Chelsea Green is expected later this year.
"Alfa Development's commitment to sleek, sustainable design, combined with the building's prime Chelsea location, created a rare opportunity for our buyers and the response has been exceptional," said Michael Namer, CEO and founder of Alfa. "We're very proud of what we have accomplished and are looking forward to taking the best of everything we've learned at Chelsea Green and continuing to build our Green Collection at 245 West 14th St., where we will soon begin construction on another eco-luxury condo project targeting LEED Gold certification."
Chelsea Green's 51 residences will be a mix of one to three bedrooms layouts, with one four-bedroom penthouse featuring a private roof terrace. Designed by the architects of Stephen B. Jacobs Group, Chelsea Green was envisioned as a sanctuary for renewal, with the building's amenities focused on the concept of healthy living, including its Wellness Center comprised of a lounge, fitness room, spa with sauna and treatment room, and a rooftop lounge.
Marking its first collaboration with a residential building, each residence features The Eric Ripert Kitchen by Poggenpohl, designed by Eric Ripert, the chef and owner of the Michelin-starred Le Bernardin. Adhering to Chelsea Green's LEED Gold certification target, each kitchen will combine sustainability with design and ergonomics; with the highest quality eco-friendly appliances and water-conserving faucets designed by Grohe.