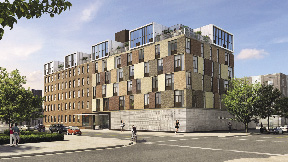 According to KMW Group, LLC and Kafati-Batarse Group of Prudential Douglas Elliman, sales have begun at The Pencil Factory Condominium, located at 122 West St. in Greenpoint. Priced competitively, the condo is offering pre-completion pricing to buyers for a limited time.
"For a limited time, the Sponsor is offering pre-construction pricing and they're priced to sell," said Joyce Kafati-Batarse, senior vice president of Prudential Douglas Elliman.
Designed by Daniel Goldner Architects and named after the Eberhard Faber pencil factory, The Pencil Factory Condominium consists of 93 predominantly one and two-bedroom residences spanning three buildings, including the original brick factory built in 1872. When completed in the fall, homes will range from 623 s/f to 1,280 s/f.
"The design of the new wings plays off of the factory building but broken down into modules that reflect the scale and mosaic tones of the surrounding neighborhood," said Daniel Goldner of Goldner Architects.
The Kafati-Batarse Group at Prudential Douglas Elliman is the exclusive marketing and sales agent for The Pencil Factory.