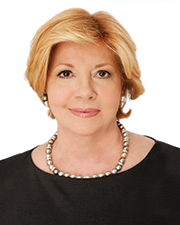 Name: Faith Hope Consolo
Title: Chairman, The Worldwide Retail Marketing, Leasing & Sales Team
Company Name: Douglas Elliman Real Estate
Years in real estate: 30+
What real estate associations or organizations are you a member of? Commercial Real Estate Women Network, International Council of Shopping Centers, Associated Builders and Owners of Greater New York, Urban Land Institute, Real Estate Board of New York, Young Men's/Women's Real Estate Association of New York, Inc., New York Commercial Real Estate Women Network, and several Chambers of Commerce.
How have you navigated obstacles to achieve success in your career? When I started in this business, it was a boy's club and often I was the only women in the room. I navigated these unfamiliar waters by working twice or three times as hard as everyone else! Garick-Aug held contests to see who could get the most signs installed around the city – after I won, and won again, and kept winning, they wouldn't let me play anymore! Commercial real estate, in general, has since become a lot friendlier to women, although it still presents many challenges. Do your homework, read/research constantly, know the landscape, personally connect with your landlords, and get out there and pound the pavement.
How do you play your strengths to your advantage in your career? My strengths are my work ethic, a great memory, good taste and a sense of style that I use to my benefit in winning new business and also disarming adversaries across the table. Retail real estate is a long term career; it can take years for your first deal, and then months going back and forth to close the next, even in the best of years. But it's the personal touch that we all remember. I connect with people, learn about them and understand their business from soup to nuts. Even if we can't do a deal today, we could do business together tomorrow.
What trends are you seeing so far this year? The economy is in a period of great change. The macroeconomic scenario was on hold up through the election, and while the stock market is up since, there's been a tremendous transformation of the retail sector, with some of the biggest names closing stores, and that's bringing a lot of new capacity to the market. That said, once brands adjust to e-commerce in our lives, I believe that retail and restaurants will continue to thrive. It's the experience that shoppers crave; we want to dine out, we want to try on new styles, we still want that great customer service.
What do you do for fun? Shopping, shopping, shopping! I jest, there's also dining, dining, dining! Of course, it's market research, but also lots of fun.