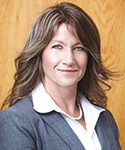 Elysa Goldman, Triangle Equities
Name: Elysa Goldman
Title: Director of Development
Company Name: Triangle Equities              
Years in real estate: 27
How did you get your start in real estate?
I began my career in real estate as an intern at the New York State Comptroller's Office in the Pension Fund's Real Estate Investment Group.  This position was instrumental in developing my love for real estate. I owe my beginning all to my mentor, a woman who taught me how to evaluate real estate from an investment perspective. I then pursued a Masters at New York University in Real Estate Investment and Development. Once I received my Masters, I got a job at the NYC Economic Development Corporation (NYC EDC) in the Real Estate Development group. I gained invaluable experience getting to know the inner workings of city government and how development directly impacts residents and their quality of life in the City. I then felt that I was ready for the private world of development and further pursued my career with Lester Petracca at Triangle Equities 20 years ago.
What real estate associations or organizations are you a member of?
ICSC; REBNY; CREW; LIBI (Long Island Builders Institute)
What recent project or transaction are you most proud of?
Lighthouse Point, our most challenging and rewarding to date. The $200 million mixed-use development in Staten Island is an opportunity that will not only transform a neighborhood and change the landscape and skyline of NYC but will have a regional and international impact. There is a $1 billion investment going into the creation of "Destination St. George" – the transformation of the St. George waterfront and we are so proud to be a part of this realized vision.
It has been 10 years coming and will be well worth it when completed. Lighthouse Point will bring a mix of commercial space, retail shops, restaurants, outdoor eating and entertainment space, a residential tower including 20% affordable units, and a programmed waterfront public open space which will allow for outdoor concerts, art exhibits, food festivals, etc.  Additionally, we will rehabilitate and repurpose four national historic structures, a historic wall, and multiple underground vaults on the site, allowing for curated food and beverage spaces and a new hotel tower featuring event space – all overlooking New York Harbor and Lower Manhattan.
What have been some of the benefits of being a mentor or having a mentor?
I mentored an individual who was in the New York University graduate program for their masters in Real Estate Investment and Development, the same program I graduated from. I was honored to have the opportunity to impart some guiding values and practices I had picked up throughout my career with a new generation entering the real estate industry. Being that I have had an amazing experience during my time in this industry, I wanted to share that with someone who will hopefully go on to mentor the next wave of real estate professionals. My work has been very rewarding so I'm always happy to help someone else find a similar love for the industry.
Who or what has been the strongest influence on your career and why?
Lester Petracca, the President of Triangle Equities, has been the strongest influence for me. The dedication he shows to the industry and to our work is inspiring. We are rooted in taking on public/private partnership projects, so for me to come from working in the public sector and still be involved in that world, on the developer side, is fantastic. Lester is so sincere about putting community improvement first in any project we take on. At the heart of all of our developments is the concept of unlocking value by embracing complexities. Most of our projects involve very complex land use, construction and finance structuring but we never shy away because our goal is to create value for the community we're in. That's what I love to do and working for Triangle and Lester has permitted me this opportunity for the past 20 years, for which I'm grateful.