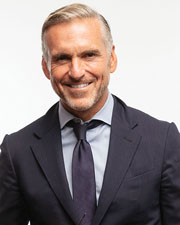 New York, NY Tom Vecchione has joined the architecture and design firm, Vocon, as global firmwide partner and principal. Vecchione, a strategic design expert with over 30 years of experience in architecture and real estate planning, will serve as an integral member of the Vocon leadership team. His role includes expanding the Vocon brand, sparking new relationships for the firm, and generating creative business opportunities.
Vecchione has advised corporations, building owners and developers to position their properties for the demands of the next generation of business. The core of his work is the belief that impactful design enhances business performance and employee engagement.
"Tom's progressive approach to real estate is informed by a deep understanding of urban planning, workplace trends and brand design," said Debbie Donley, founder and principal at Vocon. "His experience as an architect, designer and strategic planner will be an enormous asset to our firm."
"The architectural and design industry is in the midst of significant change as property owners seek to create spaces that support innovation, technology and the next economy," Vecchione said. "It's exciting to join a dynamic firm that has the agility to keep pace with the demands of our clients today."
Vecchione received his degree in architecture from the New York Institute of Technology and studied urban planning at Cornell University.
He is on the Board of Directors at The Center for an Urban Future, The New York City Landmarks Preservation Foundation, and on the Advisory Board at the Cornell Baker Program in Real Estate.