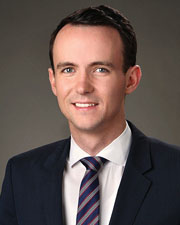 Name: Tyler Culberson
Job Title: Associate Real Estate Broker
Company Name: NAI Platform
What was your most notable project, deal, or transaction in 2020?
Despite the pandemic, my 2020 will end up finishing as my highest production year in my career. I attribute that success in 2020 to the relationships I nurtured in prior years. This year included significant transactions like a 1 million s/f Amazon Fulfillment Center lease and a $23 million industrial owner/user sale.
What are your predictions for commercial real estate in 2021?
I remain extremely optimistic for 2021, relating to the industrial sector in particular. The pandemic has accelerated almost all trends associated with expansion in the industrial sector. In Upstate New York, I feel strongly that 2021 will represent the largest expansion of the industrial sector that we may have ever seen. The availability of class A industrial space is as low as its ever been and this trend has continued. Multiple Nationally significant developers have now proposed and are beginning to break ground on spec construction to meet this market demand.
What was the most challenging part of working during the pandemic?
The pandemic created a number of strains on our traditional work environment and general uncertainty about what the future held. After approximately 45-60 days I noticed a rebound in confidence by some of my largest clients. Smaller businesses did and still do struggle to understand when things will return to their pre pandemics levels. Everyone was forced almost immediately to adapt to a completely new way of doing business through Zoom and similar resources. Commercial real estate is a business that historically is very dependent on a group of decision makers traveling, generally from out of state, to physically visit sites. After the pandemic started, the physical site inspections became restricted.
What aspects of working from home did you enjoy most?
Working from home was challenging to say the least. I very much so prefer an in office experience for my work environment. The lack of structure, interaction, and technology at home made it difficult for me to adapt.
What was your greatest professional accomplishment in 2020?
I feel my greatest accomplishment in 2020 was maintaining and expanding my level of service to my existing client base. Many concerned clients came to me with questions surrounding industry standards related to pandemic relief, force majeure, and other rent deferral methods. These conversations provided my clients with the best insight that I had available.

Thanks for Reading!
You've read 2 of your 3 guest articles
Register and get instant unlimited access to all of our articles online.

Sign up is quick, easy, & FREE.
Subscription Options
Tags: