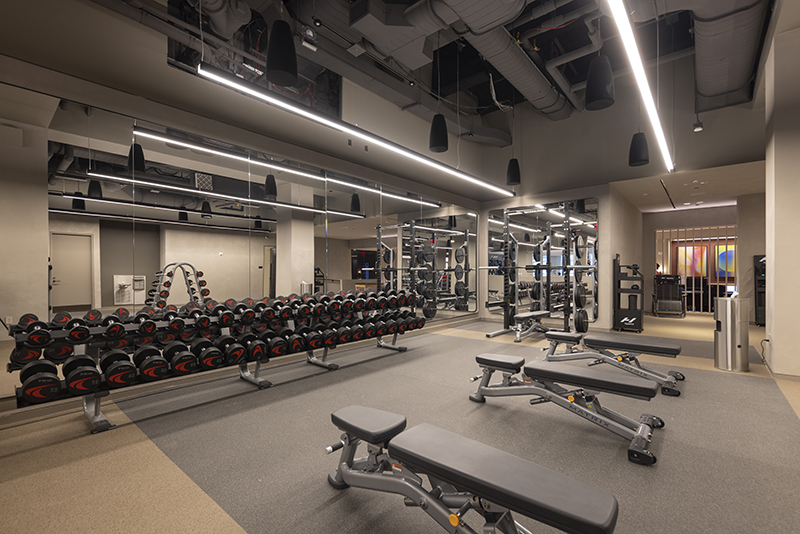 Manhattan, NY BXP has completed the General Motors (GM) Building's amenity center. Named Savoy Club, the 35,000 s/f amenity experience designed by Fogarty Finger, offers building clients access to a fitness and health center, a food and beverage concept, and a fully appointed conferencing suite.
BXP acquired the GM Building in 2008 and began renovations to refresh and modernize the amenity package in 2021. The two million s/f tower is located at 767 Fifth Ave., adjacent to Central Park and neighborhood amenities, including retail, dining and lifestyle options.
"Access to wellness resources is just as important as other job factors like compensation, location, and amenities," said Hilary Spann, executive vice president, New York region at BXP. "In addition to the neighborhood offerings, we wanted to ensure on-site opportunities that promote a more productive lifestyle for our building clients. The GM Building's new Savoy Club introduces unique spaces that encourage convenience, efficiency, and collaboration - all of which are important in our clients' day-to-day lives. We're dedicated to creating premier workplaces and look forward to the positive impact these new spaces will have on our clients."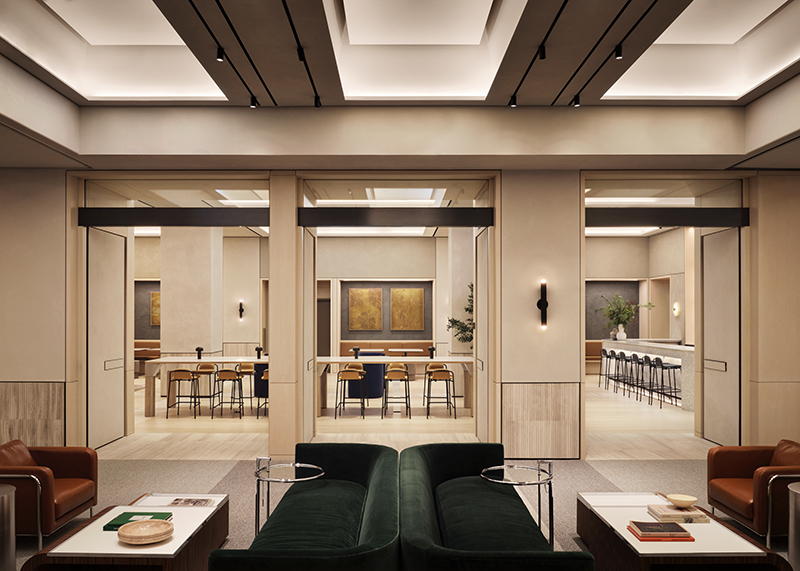 In partnership with Exos, BXP recently completed Wellness at Savoy Club, a world-class fitness center exclusively for client use. Spanning 18,000 s/f, the full-service wellness suite is available before, during, or after work hours and includes a spin studio, yoga room, fully outfitted gym with cardio equipment and weightlifting, app-based fitness and mindfulness classes, restorative therapies and recovery options, and training, wellness, and nutrition coaching. Locker rooms complete with showers, ensuite changing areas, grooming stations, and hair and body products offer a resort-style environment.
To complement the fitness component, Savoy Club offers a dining experience for any time of day. The cafe debuted in early March with coffee and espresso by La Colombe, artisanal pastries and grab-and-go breakfast and lunch options, available Monday through Friday from 7:30 a.m. to 2:30 p.m.
Savoy Club is also home to a conference center ideal for meetings and events.
BXP owns and operates 10.6 million s/f of premier workplaces in Manhattan, primarily in the Park Ave. and Plaza districts. BXP recently acquired 360 Park Ave. South and 200 Fifth Ave., expanding its footprint in the Midtown South submarket, a preferred location for companies and young professionals in the tech, advertising, media, and information (TAMI) sector.