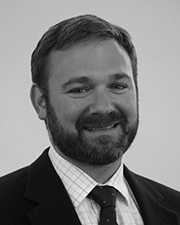 Number of years in CURRENT position: 2
3 skills that you use every day in your position: Active listening, decisiveness, and knowing how to keep the team motivated.
Best book, podcast, or app for aspiring leaders:
It's an old one, but Lincoln on Leadership was a book that I read at just the right stage in my career for it to have an immense impact. The lesson was not to be reactive in the moment, but to instead take the time to process information and be sure not to let your emotions skew the message you want to deliver. As a rising leader in my early thirties at the time who had a lot to prove, slowing down and managing emotion was great advice.
Best advice for new leaders in 10 words or less:
'Do your homework.' Read, study, learn, and understand the project better than anybody.
What recent project, transaction or accomplishment are you most proud of? Starting the Suffolk New York Healthcare sector has been a great career accomplishment and our practice has gained an impressive amount of momentum over the last eighteen months. I am exceptionally excited about and proud of the team we have assembled, with a solid mix of seasoned veterans and young talent. Current projects include Northwell Health's South Shore University Hospital Pavilion, White Plains Hospital's New Inpatient Building, and NYU Langone's Ambulatory Building.
What makes this nominee an Industry Leader? "Joseph Whalen has over 20 years experience in healthcare construction management including hospital, ambulatory, research, life sciences, and medical offices. His experience and knowledge about the constraints of working within occupied spaces makes him well versed in new healthcare technologies and the integration of those systems into existing spaces."- Julie Hewitt, Vice President of Business Development at Suffolk.