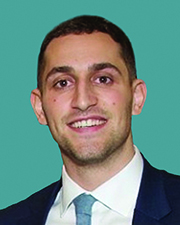 Tell us about a mentor or role model that has influenced your career choices?
The partners and directors at HKS have been incredible mentors and role models, instilling in me a strong work ethic and motivation to deliver for our clients and lenders. I was attracted to HKS because of the parallel between the real estate capital markets and the firm's entrepreneurial nature. I started my career from home during the peak of the pandemic, and the team was helpful and thoughtful in showing me the ropes.
What 3 skills do you consider the most important to be successful in your industry?
Passion, collaboration, and thinking big picture. I start every day excited to get to work and tackle what's next up on our pipeline. I love our fast-paced environment, where we're able to celebrate wins together every week. However, I make sure to take a step back every few months to assess what we've worked on in the past, and how I can build on that in the future. There's so much to learn and do, but the sky's the limit.
What do you enjoy doing when you are not working? I grew up boating and fishing on the south shore of Long Island. In the summer months I try to get out there as much as I can, there's no better feeling than being out on the bay.
What is one lesson that you had to learn the hard way? Deals die in the details. We take pride in our boutique approach, which allows us to be strong client advocates. With the volatility we're seeing in today's current world, it's key to be creative and find a solution when structuring the capital stack. Balancing the nuances of each deal and executing on the transaction when issues arise is imperative. I always keep my eyes on the finish line so we can deliver for our clients.