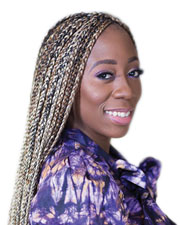 Name: Bolanle Williams-Olley
Title: Chief Financial Officer
Company Name: Mancini Duffy
List up to three associations or organizations that you are currently a member of:
What is one characteristic that you believe every woman in business should possess?
I believe every woman in business should strive to be more courageous. It takes courage to make bold and tough decisions, to lead authentically, to be confident in your ideas, to take business risks, to handle criticism and conflict and to make room for the next generation to come up. Courage gives you the permission to take a step without seeing the full picture, it's a powerful quality to have that is gained mostly through experience.
What would you tell your daughter if she was interested in following in your footsteps?
My daughter is already a force and has multi-hyphenate dreams at age six. She wants to be a doctor, teacher, fashion designer and a singer. I would tell her that she can be all she wants to be and even much more in a world that would expect her to shrink. Her job is to go after what she wants fiercely, she will succeed and in some cases stumble, but it'll just be part of her beautiful journey to becoming her!