Name: Luise Barrack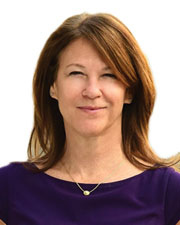 Title: Managing Member
Company Name: Rosenberg & Estis, PC
What is your favorite motivational quote?
"If it's to be, it's up to me!"
How do you hold your own in a negotiation?
I am confident in who I am, what I know, what I have done, and what I can do. I am direct and state how I feel about the issue being discussed. I am not afraid of conflict and I don't back down.
What is the best advice you have received, and who was it from?
The best advice I received in my life was non-verbal. It was advice by example. Do what I do. It came from the single mother of a childhood friend. Although she graduated third in her class at University of Michigan Law School, she could not find a big law firm willing to extend her an offer. Not surprisingly, before they divorced, her then husband, a former classmate, had no such impediment. She worked in-house at Con Edison and would come home at night early enough to have dinner with her son. After dinner, she would spread out all of her papers on their dining room table to finish the work that she could not finish during the day. She was an inspiration. Unfortunately, she died very young.