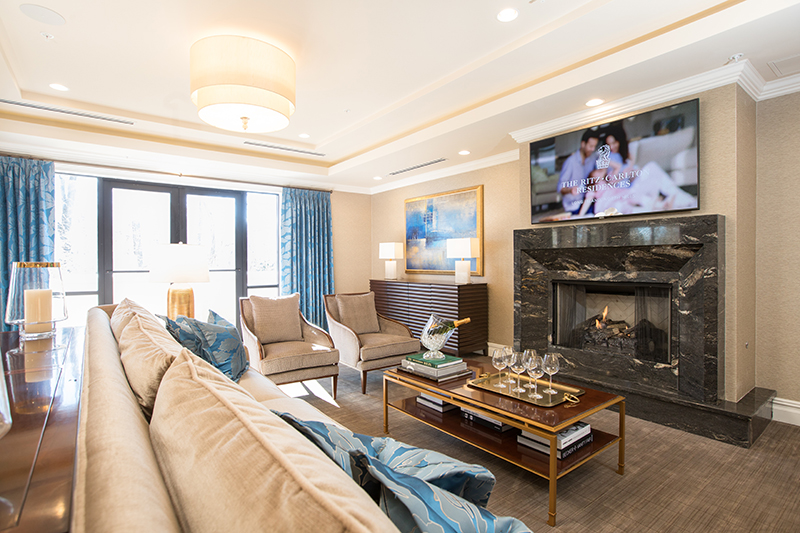 North Hills, NY According to Pizzarotti, LLC, The Ritz-Carlton Residences in Long Island has obtained a Temporary Certificate of Occupancy (TCO) for 5000 Royal Court. This is following the TCO of 3000 Royal Court received at the end of 2018. 5000 Royal Court includes buildings 3 and 4 of this project and accommodates 32 residences in addition to a club room with a library and bar, fitness center with state-of-the-art equipment and a grand main entrance.
The Ritz-Carlton Residences is an RXR Realty project, comprised of 244 condominiums on 17 landscaped acres on Long Island's North Shore. The gated community is conveniently located 20 miles from Manhattan and 60 miles from the Hamptons.
The 115,000 s/f residential project includes six new residential buildings:
• Buildings 1 & 2 will be 31,000 s/f, accommodating 33 residences, TCO is expected in late spring 2019.
• Buildings 3 & 4, which received TCO in March, are 34,000 s/f, accommodating 35 residences.
• Buildings 5 & 6, which received TCO in December 2018, are 50,000 s/f, accommodating 52 residences.
The project has amenities including a 25,000 s/f clubhouse featuring space for entertaining, a lounge and bar for residents, a board room, a theater-style screening room and a games and billiards room. Additional amenities include a fitness center and yoga studio with saunas, steam showers and indoor and outdoor swimming pools. Residences range from 1,600 to 3,800 s/f and each residence has high ceilings, gourmet kitchens, spa-like bathrooms, two parking spaces, and either private balcony or terrace.
Residents will also enjoy the legendary services of The Ritz-Carlton Hotel Co., including 24-hour concierge service, valet parking, housekeeping, dog walking, doormen and porters. There is also a Cadillac Escalade shuttle to the train station every day for those commuting to Manhattan or the Hamptons.
"We are proud of our work on The Ritz-Carlton Residences, North Hills and we are pleased to have completed this portion of the project. The Residences are a landmark project for L.I. and the surrounding community and we are pleased to deliver such an outstanding product to the market."