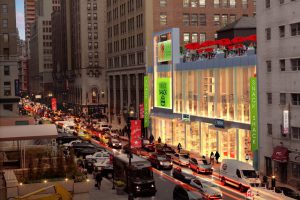 210 West 31st Street - Manhattan, NY
Manhattan, NY PCCP LLC has provided a $47.1 million senior loan to a joint venture of Onyx Equities, LLC and KBS Capital Advisors for the development of 210 West 31st St. into a two-story, 30,000 s/f retail building. The site is located on the south side of West 31st St. just west of Seventh Ave. and across from Madison Sq. Garden and New York Penn Station in the Penn Plaza submarket. 
The joint venture is finalizing conceptual plans and drawings for the new multi-tenant retail building which will include a basement and rentable terrace. Construction is expected to begin in mid-2017 and is anticipated to be completed by mid-2018.
"PCCP's loan will provide the joint venture with the funds to develop and market the property which is in a highly visible, irreplaceable location across from Penn Station and Madison Sq. Garden," said John Randall, managing director with PCCP. "The planned project has already generated a strong amount of interest from a variety of restaurants and retailers." 
The conceptual plans for the building incorporate maximum flexibility, with a proposed configuration that allows the ground floor to be split into multiple tenant spaces. 
Onyx is a fully integrated real estate investment company that specializes in acquiring and repositioning undervalued properties in the New York tri?state region. Since its inception in 2004, Onyx has purchased and repositioned over 10 million square feet of commercial office, industrial, retail, and residential buildings. Onyx has completed over 65 transactions, with an aggregate transaction value of $1 billion on behalf of three private equity funds and a direct investment platform. Founded in 1992, KBS is a real estate investment firm based in Newport Beach, California. The firm has conducted $32.5 billion in transactional volume since inception and focuses on the office, industrial, multifamily, and retail sectors. In addition, they originate and acquire debt positions collateralized by stabilized and value-add properties. Over the course of its life cycle, KBS has created six institutional commingled funds, 14 separate accounts with public and corporate pension funds and five sovereign wealth funds.