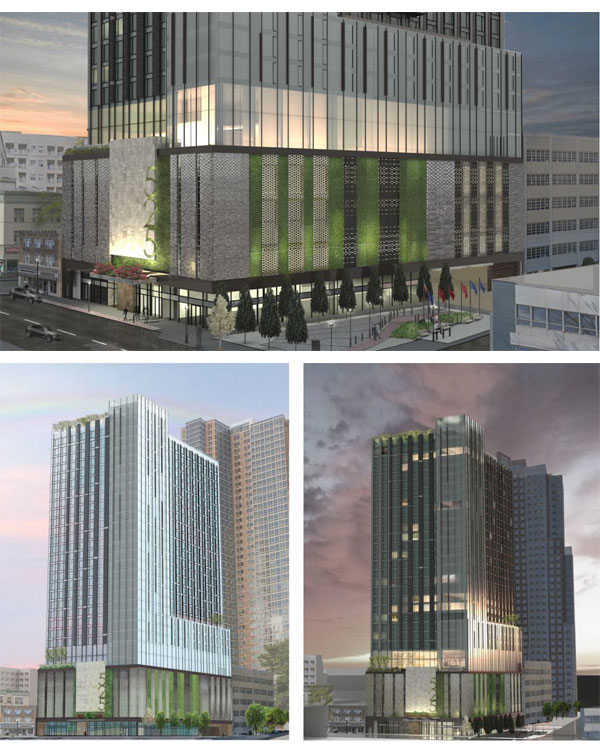 It's no secret that New Rochelle's surge in real estate development has continued steadily. It's everywhere apparent that the expanding downtown area is adding more mixed-use and luxury housing than ever.
One building in the planning is by developer Main & Memorial Assemblage, LLC with Jonson Chen, Partner. Billed as 525 Main, the projected 28-story building will consist of 351 units, a mixed-use entity on Main St. and Memorial Highway. 525 Main will feature 31 studios, 268 1-bedroom, 46 2-bedroom, 6 3-bedroom apartments, and two duplexes on the 28th floor. 10 percent of 525 Main will be reserved for affordable housing, and the building features will include a swimming pool with amenities on the fifth floor.
Architecture is by Doban Architecture of Brooklyn with engineering by Langan Engineering. The exterior features of the building will include sections of planted green walls and have masonry detail and brickwork. 525 Main is also designed to mitigate wind impacts. There will be 274 parking spaces as part of the 22,000 s/f development as well as 6,000 s/f of retail space. Complete valet parking will be available, along with car elevators.
New Rochelle's remarkable downtown transformation endures with 525 Main set to rouse the housing market here.
Matthew O'Shaughnessy is a contributing author, New Rochelle, N.Y.