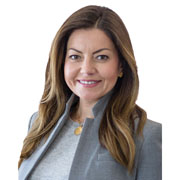 Southampton, NY According to Roxane Mosleh & Associates, LLC, its principal, Roxane Mosleh, whose credentials already include interior designer designations of Allied ASID, Assoc. IIDA and New York State licensed real estate agent with the property brokerage, Saunders & Associates, has earned her Florida broker's license. Now, in addition to marketing properties in The Hamptons and Manhattan, she will be marketing residential properties throughout Palm Beach, Florida and surrounding upscale communities.
Mosleh, who is a formally educated interior designer, has been active in her design and project consulting role within the South Florida market for several years. There, she has earned a reputation as an experienced designer, who also has an in-depth knowledge of construction and project development. These broad skills have made her a strong asset to property owners, builders and architects, alike. She has served on a wide range of projects, often collaborating with property owners, builders and architects to deliver distinctive, well thought out projects.
Now, leveraging her proven track record serving the Hamptons market, she will be able to apply her broker license in Florida to provide that market with an end-to-end service from property transactions to project consulting, interior design and furnishings. She also has the distinction of being the owner of the first Missoni Home retail store and today continues to market its products, including the recently launched Missoni Home 2020 collection.