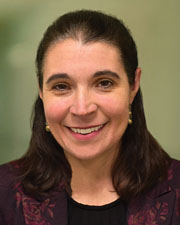 Suffern, NY According to Nelson, Pope & Voorhis, LLC (NP&V), an environmental, land use planning and economic services firm, Valerie Monastra, AICP, has joined NP&V's Hudson Valley office as principal planner. Monastra will be responsible for municipal board representation, SEQRA management, comprehensive planning and zoning preparation and amendments, and other assignments.
Monastra brings to NP&V experience in comprehensive plans, blight and housing studies, SEQRA implementation, economic analysis, and project management across Westchester County and lower Hudson Valley. Monastra presents at conferences and publishes on topics including but not limited to planning and zoning, the SEQR process, land use issues and strategies, smart growth and fair housing initiatives.
Managing partner, Charles Voorhis, AICP, CEP, sais "We are extremely pleased to have Valerie on board. Her knowledge and skillset complement our existing team members and will be an asset to better serve our municipal and private clients, as well as help us to expand."
Monastra received a BS degree in Geology from Temple University, MA degree in Urban and Environmental Policy and Planning from Tufts University, and MS degree in Geochemistry from Cornell University; she has an advanced certification in Public Administration. She is a member of the American Institute of Certified Planners (AICP), American Planning Association (APA) and has served as the president for Westchester's Municipal Planning Federation since 2016 and a board member since 2012.
Monastra is a board member of the IFCA Housing Network.