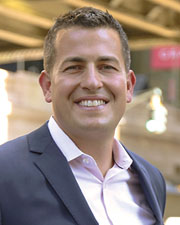 Name: Michael Rossi
Title: CEO
Company Name: Elegran
What aspects of working from home did you enjoy most?
While I missed the energy and family-style culture of our offices as well as seeing our staff and agents in-person every day, I loved being able to spend more quality time with my family and animals. We live in the country in Bedford and I was able to work from our deck quite a bit with the chickens, dogs and my two children running around. My son and daughter have taken an interest in my business while doing their at-home school, and it has given me an opportunity to talk to them about my work.
What was your greatest professional accomplishment in 2020?
I'm so proud of our agents and staff; everyone rallied to shift into working efficiently from home and management maintained a training schedule that created an atmosphere of learning and growth despite NYC being shut down. Elegran came out of this period a stronger company than we were going into it, and it was a collective effort in every regard.
We also upgraded our technology and marketing platform. We've always been a technology-powered agency and we invest heavily in our agents—providing thoughtful tech and hands-on marketing that save time and allow them to advise their clients better, resulting in them being able to transact more deals. I'm more than confident I chose the right people to help me run the company, including the very latest recruit Ben Willig, who brings tremendous value and resources with him in his new role as a sales manager.