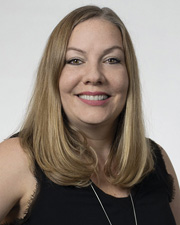 New York, NY Mancini has added Jessica Mann-Amato, IIDA, LEED AP, previously of Spector Group, into a principal position that will supercharge technology-driven design at the firm. Mann-Amato brings 20 years of client-focused design experience that will navigate the opportunities where next-level design and technology merge to deliver goal-reaching environments for clients.
"Bringing Jessica onto our team as a principal epitomizes Mancini's commitment to explore opportunities where, as firm leaders,we continueto evolve our practice," said Christian Giordano, president of Mancini. "We've been using technology to break the mold of how design is done and we know Jessica will add a significant point of view and keep our teams pushing the boundaries we continue tochallenge."
Mann-Amato's career highlights include design projects for a wide range of clients that met unique business goals, integrated new workplace strategies, and delivered design that has had significant impact on clients' company culture. She has created spaces for clients such as Indeed, Rent the Runway, McGraw-Hill, Rauxa, Pernod Ricard USA, ALM Media, and Citigroup, among many other innovative companies.
"When I saw how Mancini is using technology to push design forward, I knew I wanted to be part of the team," Mann-Amato said. "It's my goal to challenge Mancini's designers to think critically, with the client's goals in mind, and to be a mentor who will encourage and inspire creativity."
A graduate of Ringling College of Art and Design, Mann-Amato joins Mancini with 20 years of experience in architectural interiors. In that time, she has worked with Spector Group, HLW International LLP, NELSON, Funstahl & Simon Architects, and ConantA rchitects.