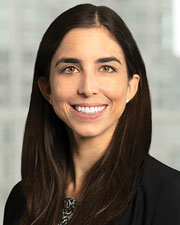 Name: Jamie Greenfield
Title: Associate
Company Name: Troutman Sanders
List up to three associations or organizations that you are presently a member of:
UJA Federation of New York Young Lawyers Board Committee
What is one characteristic that you believe every woman in business should possess?
Every woman in business should possess a strong moral compass. In today's world, there are many forces that either attempt to distract or demand a woman's attention. With a strong moral compass, a woman will never forget her values and objectives. She will be able to make the right decision, even if unpopular, and will not settle for anything less. And by following her own guidance, she will prove an inspiring example for other women and colleagues.
What would you tell your daughter if she was interested in following in your footsteps?
I would tell my daughter what I learned from my mother: If you have passion and a strong work ethic, you can accomplish anything. While her children were in high school, my mother enrolled in law school. She juggled raising a family as she began a new career. If my daughter followed in my footsteps, she would join a maternal line of lawyers who lead by example. With passion and a strong work ethic, she can overcome any challenge and turn her dreams into reality.
What conferences, books, blogs, podcasts, or influencers would you recommend to women?
"Educated" by Tara Westover; "Lean In" by Sheryl Sandberg; "Ted Talk – Power of Vulnerability" by Brene Brown.