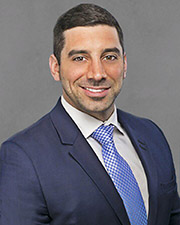 Name: Greg Goldberg
Title: Director
Company Name: Meridian Retail Leasing
What recent project, transaction or accomplishment are you most proud of?
I recently leased a portfolio of properties in the East Village, including 120 First Ave., 215 First Ave., 131 First Ave., 82 Saint Marks Pl., and currently have leases out on 351 East 12th St. and 435 East 9th St. I also recently leased the entire third floor of 62 Grand St. and part of the 10th floor at 54 West 39th St., which are office spaces.
How do you keep your team motivated despite conflicts and obstacles?
There's no other way than to keep pushing forward. Show up every day with a smile on your face and have a positive attitude. We never stopped servicing our clients during these difficult times. No one could have predicted this pandemic, and closing deals has never been more challenging, but with over 100 leases signed in the past year alone, we've navigated our way through and found a more precise approach to retail and office leasing as a result.
Who was/is your mentor and how did s/he influence/help you in your career?
My brother-in-law, Greg Kalikow. He was the one who first got me into real estate.
Being a part of the fourth generation of his family's real estate business, his expertise and knowledge of the industry is immensely valuable. We talk every day about both business and family.
Top three things on your bucket list:
See the Northern Lights, complete an Iron Man, and dive at the Great Barrier Reef.
Favorite quote:
"Some will. Some won't. So what?"