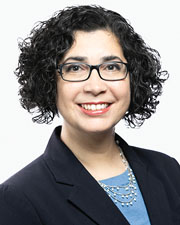 Name: Cristina Martinez
Title: Business Development Director
Company Name: Mueser Rutledge Consulting Engineers
List up to three associations or organizations that you are currently a member of:
ACE Mentor Program of NJ Board;
Leadership Newark Board
What recent project or accomplishment are you most proud of?
In 2019 I joined Mueser Rutledge in the newly created role of business development director. The role is the firm's first ever professional dedicated full time to business development. Working alongside seasoned leadership in a firm founded over 100 years ago, is a tremendous opportunity to learn from their established success while infusing my experience and new approaches to pursuing relationships and new opportunities. One of our new initiatives was to increase the firm's visibility by expanding our social media presence. While still in early stages, our close collaboration of principals, marketing and younger staff is conceiving a meaningful new approach.
What would you tell your daughter if she was interested in following in your footsteps?
I pass along my enthusiasm and appreciation of our industry to my children and am proud that my oldest daughter is studying to be an environmental engineer. I will encourage her to make an impact, not only by always doing her best, but influencing her profession by getting involved. Having an engineering background created a fulfilling career path for me and it can do the same for her, but there are challenges. Major lessons learned that I strive to relay: Find mentors; Never stop learning or looking for opportunities to help… the client, your firm and your peers; Never burn bridges and become a bridge for others.