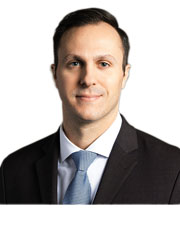 Name: Joseph Gervino
Company: Avison Young
Title: Senior Associate
Education: Bachelor of Science in Marketing from the Lender School of Business at Quinnipiac University
Which project, deal, or transaction was the "game-changer" in the advancement of your career?
Early in my career I had the opportunity to work as part of The Agency team for a large midtown office building. When we took over, the building had a lot of vacant space, multi-tenanted floors and lacked an identity. Throughout the first few years, we re-stacked the building, handled 50+ renewals and 25+ new tenant transactions and created a brand for the asset. Through each transaction, I was able to learn and grow as a broker. This experience helped advance my career as I gained an understanding of both the landlord and tenant sides of the business.
What do you like most about your job?
I come across something new every day and am constantly learning. Whether it's representing a tenant or landlord, new and unique situations arise on a daily basis which require creative solutions. I have been very fortunate to work with good people, experienced brokers that I trust and respect, that have taken the time to teach me the business on a daily basis and help guide me throughout the early part of my career.