Name: Andrew Lieb, Esq.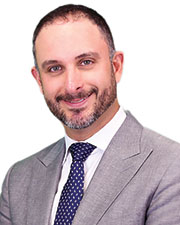 Company: Lieb at Law, P.C.
What was your greatest professional accomplishment in 2019?
Launching an online portal for real estate brokerage compliance trainings where companies can leverage my unique combination of law and industry knowledge to tailor offerings to their agents while satisfying their supervisory burden. After lecturing live to thousands and thousands of real estate agents on such topics as discrimination, agency disclosure, rental laws, and much more throughout the past decade, it was time for me to transition to an online offering where every company can now have access to the best compliance available in the industry. This year alone, I offered 150 compliance trainings and could not keep up with demand.
What was your most notable project, deal, or transaction in 2019?
Having sanctions ordered against plaintiffs that have sued my clients.
What are your predictions for commercial real estate in 2020?
The Yellowstone Injunction will make a strong return after the governor signs legislation that will overturn appellate case law that had just done away with the injunction.

Thanks for Reading!
You've read 1 of your 3 guest articles
Register and get instant unlimited access to all of our articles online.

Sign up is quick, easy, & FREE.
Subscription Options
Tags: