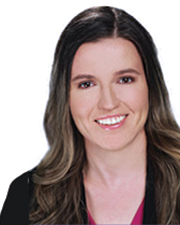 Name: Valeria Kozhich
Title: Partner
Company Name: Holm & O'Hara LLP
Association/Organization Affiliations (REAL ESTATE ONLY): CREW NY
What is your favorite motivational quote?
"You can't cross the sea merely by standing and staring at the water" ~ Rabindranath Tagore
What recent project or transaction are you most proud of?
I was part of a team—along with the client's brokers and accountant—that helped convert a client's property investment from a break-even situation to a $750,000 annual revenue stream through a §1031 like-kind exchange. A mixed use property in NYC was exchanged for several net leased properties in other parts of the US.
What was one of your biggest accomplishments in the last 12 months?
Over this past year I've worked on sale and purchase transactions with a total volume of over $125 million, the majority of which have been either net lease sales or acquisitions.