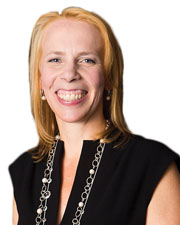 Name: Terri Adler
Title: Managing Partner & Real Estate Chair
Company Name: Duval & Stachenfeld LLP
Association/Organization Affiliations (REAL ESTATE ONLY): WX. Inc., Women in Funds (WIF)
What is your favorite motivational quote?
By William Shakespeare:"Love all, trust a few, do wrong to none," and"This above all: To thine own self be true."
What is the best advice you have received, and who was it from?
The best advice I ever received was from my grandmother, who told me not to listen to other people's advice.
What recent project or transaction are you most proud of?
What I am most proud of is building out an industry leading Opportunity Zone Practice Group consisting of our real estate and tax attorneys. The group has been at the forefront of this burgeoning space representing clients closing cutting edge transactions. For example, I, along with my Opportunity Zone team, advised Halpern Real Estate Ventures on the first closing of its opportunity zone real estate vehicle. This is a unique deal in that it is the first sponsor capital fund to solely target opportunity zone investments. This bespoke deal required extensive drafting and resulted in the formation of the $100 million qualified opportunity fund to focus on major metropolitan centers in the Northeast.
What was one of your biggest accomplishments in the last 12 months?
My biggest accomplishment is becoming managing partner of Duval & Stachenfeld in October 2018. After years of hard work, I feel honored to be elected by my partners and to lead the firm into its exciting next chapter.