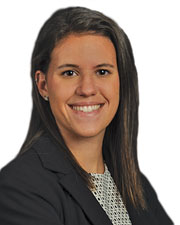 Name: Gabriella Botticelli, Esq.
Title: Tax Certiorari Attorney
Company Name: Forchelli Deegan Terrana LLP
Association/Organization Affiliations (REAL ESTATE ONLY): Nassau County Bar Association (Condemnation Law & Tax Certiorari Committee)
What is your favorite motivational quote?
"Whether you think you can, or you think you can't—you're right." ~ Henry Ford
How do you hold your own in a negotiation?
My goal in every negotiation is to be the most prepared person in the room. I find that the best way to reach a durable agreement is to have all of the information; which includes not only your position, but your opponent's as well. Asking questions during the negotiation has been a great tool for me. Inquiring about the other person's position allows you to learn more about not only what the person wants, but why they want it. Learning about the motivations driving a person's position can often open the door for creative collaboration and compromise.
What is the best advice you have received, and who was it from?
When I choose to follow it, the best advice I have received is to not sweat the small stuff. As an attorney, it is easy to let yourself get anxious and stressed about every little detail of a case, even things that are out of your control. But as J.K. Rowling wrote, "If you worry, you suffer twice." Thankfully, I have many people in my life that remind me to take a breath, and that it is possible to prepare for the worst without letting the fear of the worst consume you.

Thanks for Reading!
You've read 1 of your 3 guest articles
Register and get instant unlimited access to all of our articles online.

Sign up is quick, easy, & FREE.
Subscription Options
Tags: