Name: Max Ralby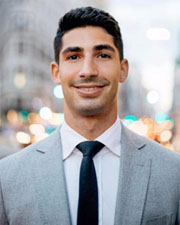 Title: Capital Markets Associate
Company Name: HKS Real Estate Advisors
Address: 38 West 21st Street, 8th Fl., New York, NY 10010
Real estate organizations: UJA
Who or what do you attribute to your success?
I attribute a great deal of my success to the platform HKS Real Estate Advisors has provided. The team-oriented, creative, and boutique approach has allowed me to excel. I really can't thank everyone enough from top to bottom for their willingness to teach, lend a hand and challenging moments, and share in my successes. It really is an incredible place to work where we all share a common goal and vision.
How have your life experiences impacted who you are professionally?
Playing collegiate basketball at NYU and professionally in Israel has been the biggest parallel to my career in commercial real estate. The drive to work day-in and day-out, persistence and consistency were all values instilled from my basketball days. While there is no feeling that can replace lacing up your shoes on game day, securing a deal for your client comes pretty close!
What was your favorite thing to do when you were a kid?
Ever since I can remember my dream was to play professional basketball. I lived and dreamed basketball from childhood all the way until my last game as a professional in Israel (and I still love the game). From shooting hoops late at night in my backyard to early morning training sessions, basketball has always been my number one passion.