Nominee: Lisa Kirsch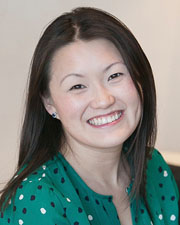 Title: Director of Real Estate
Company: Knotel
What do you consider to be your greatest success in the past 12 months?
I'm going to cheat a little in the answer to this question. A project I'm very proud of is completing and opening its doors this October - the first NYC Wegmans supermarket at the Brooklyn Navy Yard. While I negotiated and closed the deal 4.5 years ago (ground-up development takes a long time), the surrounding neighborhood, which is a food desert, has been waiting decades for this day.
Who or what do you attribute to your success?
The people in my life both personally and professionally. I have a proverbial village (husband, parents, sisters and close friends) that allow me to both lean into my career and raise a family at the same time. And at work, I've been lucky to have managers, in the past and presently here at Knotel, who trust me to take on new challenges that help me continue to grow professionally.
What advice can you offer to someone who is just getting started in your industry?
I would recommend figuring out what skills you need to acquire and then looking for opportunities to learn them. The first job doesn't need to be forever but a good foundation will prepare you to succeed in the future.