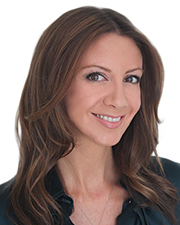 Name: Christen Portelli
Title: Managing Principal
Company Name: Highcap Group LLC
Years in real estate: 16
How have you navigated obstacles to achieve success in your career? When we hit roadblocks in brokerage, I think our mindset becomes the biggest obstacle for navigating in a forward direction. Negative thoughts and emotions typically cloud vision and logical thinking. I always detain negative thoughts and focus on positive energy. This coupled with keeping emotions aside usually leads the way to more creative thinking and paves the way to a solution. I also think it's important to recognize what you can control in the equation and how to break down the steps in overcoming a barrier in a focused and timely manner.
What trends are you seeing so far this year? We have seen more creative approaches to getting deals done such as short term leases with an option to buy or long term ground leases as opposed to fee simple deals. Distressed debt has also started to make a small comeback and we expect to see more of those opportunities, especially on development sites/conversions that are sitting idle or buildings with significant vacant retail.
What do you do for fun? Working out is not only fun for me but a great stress release, I love taking pure barre, yoga and 360 classes. In addition, I enjoying hiking with my dog, Lucy.