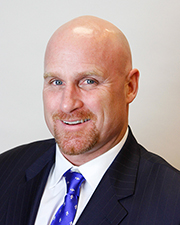 Mineola, NY The Long Island Real Estate Group (LIREG), the 400-member philanthropic and networking group, appointed Avalon Bay Community's Matthew Whalen to its executive board.
Whalen, who previously served on LIREG's executive board from 2006 to 2010, is senior vice president of development of Avalon Bay Communities Inc., and is responsible for leading the Arlington, Va.-based real estate investment trust's development and acquisition activity in the Long Island, Westchester and Connecticut real estate markets. Avalon Bay is a developer of residential rental communities.
"We are pleased to welcome Matt back to our board and to again have one of the region's largest residential developers involved in our organization," said LIREG co-presidents Michael Blaymore and Richard Herzbach.
With 30 years of experience in the real estate business, Whalen has worked in many different sectors of the industry, including multifamily, office, industrial, hospitality and single family. He began his career with Toll Brothers in New Jersey, and he has held vice president positions at Security Capital, Homestead Village, Crimson Partners and Cogent Communications.
A former president and chairman of the Long Island Builders Institute, Whalen currently is a board member of the Long Island Association. He also has served on the boards of the Real Estate Practitioners Institute, the Long Island Housing Partnership, Hofstra University's Institute of Real Estate, the New York State Builders Association, and the Community Development Corporation of Long Island. He is an active member of the Association for a Better Long, the Urban Land Institute, Action Long Island and the Suffolk County Village Officials Association.
A 1988 graduate of Princeton University, where he received a B.A. in history and captained the varsity football team. He subsequently captained the United States Rugby team in 1998 and 1999. He also completed the AMDP program at the Harvard University Graduate School of Design.
Whalen resides in Garden City with his wife and three children.
LIREG, formed in 2004 to encourage networking among Long Island real estate developers, owners and allied trades and to raise funds for charitable real estate-related projects on Long Island, has almost 400 members. Since its founding, LIREG has contributed more than $1 million to numerous real estate-related projects undertaken by charities on Long Island.