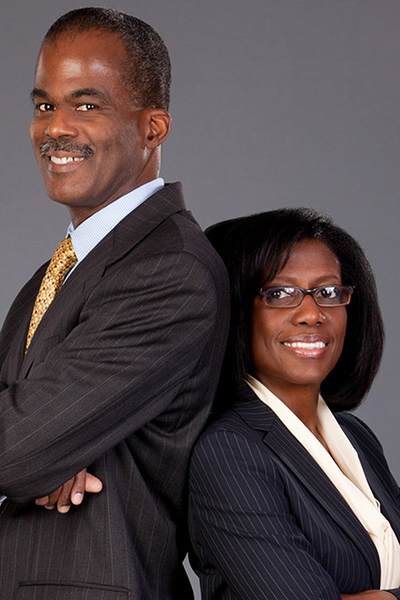 New York, NY Terrence O'Neal, FAIA, managing principal of Terrence O'Neal Architect LLC (TONA) and Heather Philip-O'Neal, AIA, design principal, were among 20 design professionals recently showcased in "SAY IT LOUD: Distinguished Black Designers of NYCOBA|NOMA," a special exhibit that highlighted the contributions made by architects, designers and planners of color on view at the Center for Architecture.
"SAY IT LOUD," which takes its title from the popular James Brown song of the late 1960s, noted that the approximately 2,090 African American architects in the U.S. represent only 2% of the total population of the nation's licensed architects. As "these individuals have blazed a trail that is seldom the subject of wide acclaim," NYCOBA|NOMA (the NYC chapter of the National Organization of Minority Architects) is dedicated to raising awareness among the public and the industry to these professionals and their impact on the architecture and design community.
TONA projects featured in the exhibit were: The Lorraine Montenegro Women & Children's Residence in the Bronx, scheduled for completion this year; the library upgrade at IS (intermediate school) 220 in Brooklyn; and the library upgrade at Old Boys High School in Brooklyn.
In interviews included in the exhibit, Terrence O'Neal noted that TONA focuses on affordable housing, supportive housing and public schools. He said, "The effects on users of the buildings and spaces are immediate. We can see the positive influence that architecture has on people's lives through our work."
Heather O'Neal pointed out that, "The opportunity to work with organizations that strive for improving the lives of all in their communities adds dimension and enhances my experience of the profession. Our work is particularly rewarding due to the impact on the lives of many who will live, work, and learn in the spaces we design."
Terrence and Heather O'Neal were recognized as one of the "membership highlights" of NYCOBA | NOMA in 2015, a monthly feature on the organization's website.
Alongside highlighted members, SAY IT LOUD featured the winners of the Jumaane Omar Stewart Award for New York City high school students and the NYCOBA | NOMA Diversity in the School of Architecture Award. The exhibit was curated by Pascale Sablan, AIA, NOMA, LEED and designed by Manuel Miranda Practice in collaboration with NYCOBA | NOMA. FXFOWLE was a sponsor.