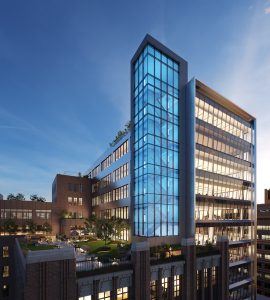 Brooklyn, NY Tishman Speyer's CEO, Rob Speyer, unveiled the firm's plans and timetable for the development of The Wheeler, a 10-story creative office hub to rise above Macy's historic department store in downtown.
With The Wheeler, a name inspired by the visionary 19th century developer Andrew Wheeler, Tishman Speyer is creating a 620,000 s/f vertical office campus spread across 10 floors. The new development will feature 16-ft. ceilings on each floor, an acre of outdoor space across a series of gardened terraces and roof decks, a dedicated amenity floor, and views of Lower Manhattan, Brooklyn Bridge, Statue of Liberty and New York Harbor. The Wheeler will be ready for occupancy in mid-2019.
"For Tishman Speyer's first-ever project in Brooklyn, we are creating an environment that is every bit as innovative, energetic and dynamic as the borough itself," Rob Speyer said. "The Wheeler will celebrate its special location at the epicenter of Brooklyn and feed off the vitality of the iconic brownstone neighborhoods, open spaces, cultural venues and creative communities that surround it on all sides."
To realize its vision for The Wheeler, Tishman Speyer is working with renowned architect Joey Shimoda, founder of the Shimoda Design Group, alongside the architectural firm Perkins Eastman. This will be the first New York project for the Shimoda Design Group, which has established a reputation for delivering best-in-class creative office space for tenants elsewhere in the U.S.
Tishman Speyer, which is serving as project developer and operating partner for The Wheeler, is being joined by partner HNA Group, a prominent global investor based in China. HNA is also an investment partner with Tishman Speyer on the firm's two planned Hudson Yards development projects. Construction financing, which was arranged by HFF, is being provided by Bank of the Ozarks.
Through the partnership between Macy's and Tishman Speyer, Macy's will continue to own and operate the first four shopping floors and lower level of two interconnected buildings – a nine-story art deco building built in 1930 and an adjacent four-story, cast-iron structure that was built by Andrew Wheeler in the 1870s.
Tishman Speyer is constructing ten brand new office floors on top of the 1870s Wheeler building and will seamlessly integrate that new construction into the upper floors of the 1930 art deco building that Macy's is vacating. This blend of old and new will result in 620,000 s/f of light-filled class A office space with 16-ft. ceilings.
The lower four office floors will encompass 90,000 s/f of rentable space per floor, while the upper six office floors will range in size from 30,000 to 64,000 s/f.
Tishman Speyer is preserving all existing setbacks and creating a number of additional setbacks into the new construction. These setbacks, which will be spread out across eight offices floors, will be transformed into an acre of landscaped outdoor terraces and roof decks for active tenant use.
The Wheeler will have its own dedicated entrance located on Livingston Street between Hoyt Street and Gallatin Place.