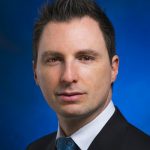 Joe Robinson, Eastern Consolidated
Manhattan, NY Eastern Consolidated's retail leasing division has arranged a 10-year lease at 48 Macdougal St. in SoHo for Raku, a Japanese restaurant that will be opening a second location in the 1,200 s/f space located between West Houston and Prince Sts.
Master chef Norihiro "Miyake" Ishizuka and restauranteur Huey Cheng, who currently operate the original Raku and a separate sushi bar called Kura in the East Village, will be introducing their popular menu selections for in-house dining and delivery at the new Raku site this spring.
Eastern Consolidated senior director Joe Robinson arranged the SoHo lease for Raku, while the landlord was represented by David Graff of Compass.
"Raku specializes in gourmet Udon Noodles and traditional Japanese comfort food and has been very successful in its East Village location," Robinson said. "Chef Ishizuka has had a long and fruitful career as a chef in Japan, Thailand, and the U.S. and will be bringing his unique preparation style and menu to SoHo."
The SoHo space was perfect, Robinson said, because it previously housed a restaurant and offered an ideal turnkey opportunity. Robinson is currently looking for additional locations for Raku's owners who want to open other restaurant concepts in Manhattan.
The original Raku restaurant is located at 342 East Sixth Street and offers delivery and in-house dining in an intimate setting from noon to 11 pm Tuesday through Sunday. Top sellers on the Raku menu are Chicken Tatsuta-age, Gyoza, Curry Udon, and Niku Udon. Kura operates from a discreet shopfront tucked away at 130 St Marks Place and is open for dinner Monday throughSaturday.