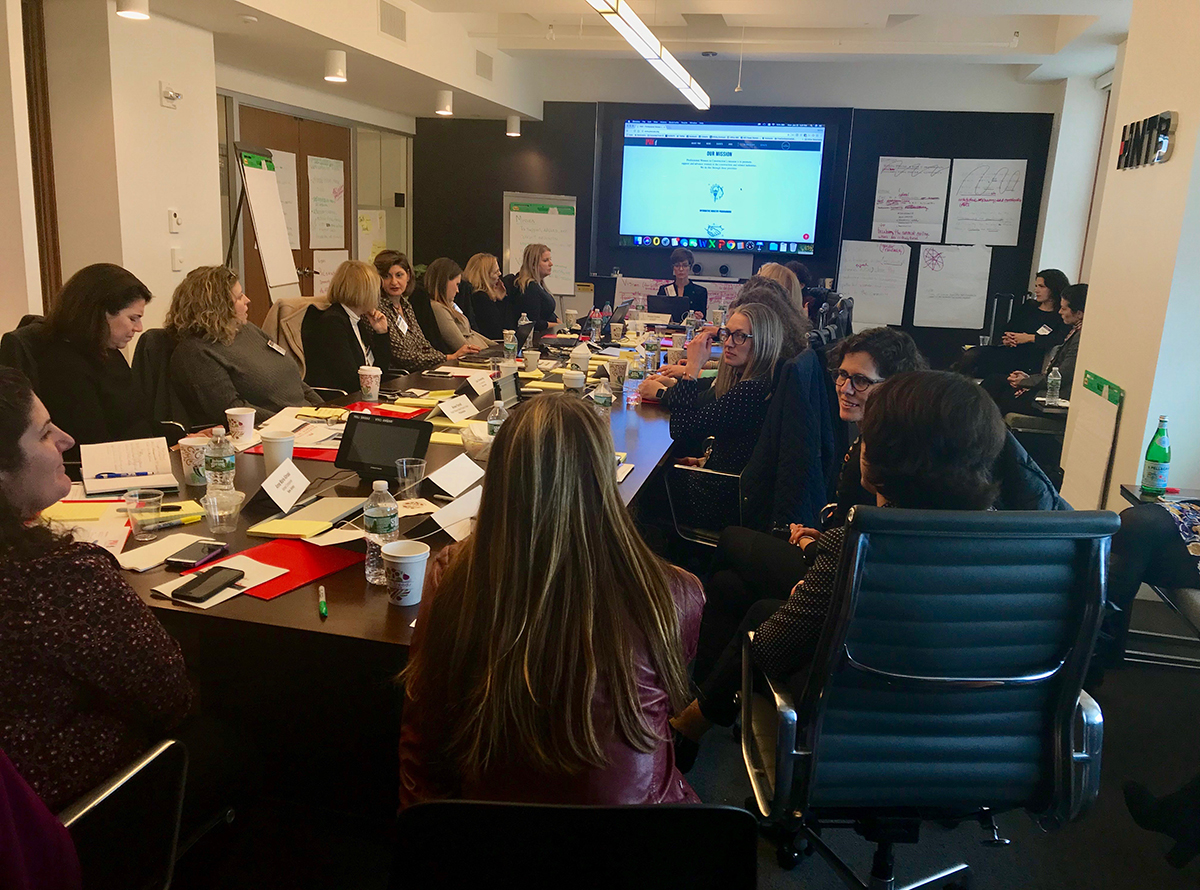 New York, NY PWC's New York and founding chapter hosted the organization's inaugural National Summit at the HNTB New York Offices in the Empire State Building. This summit brought all five chapters together for the first time to discuss mission and strategy to promote and advance women in the construction industry. The five chapters are Boston, Connecticut, New Jersey, New York and Philadelphia, with Boston and Philadelphia launching in 2017.
The goal of the National Summit was to discuss the organization's mission and vision moving forward and allow chapters to connect and establish strong roots together that will lead to future growth of the organization across the nation.
New York chapter board of directors include: President, Nicole Hunter, HNTB; executive vice president, Maria Wilpon, Stantec; vice president, Amy Beckman, HOK; treasurer, Geri Gregor, Reliance Mechanical Services; secretary, Nicole Woolard, Duane Morris; director, Nicole Dosso, SOM; director, Sarah Epifano, Skanska USA; director, Melina Johnson, STV; and director, Shalini Mohan, SM Design & Consulting.
Connecticut chapter board of directors include: President, Laurann Asklof, Shipman & Goodwin LLP; vice president, Roxanne Perugino, STV-DPM; treasurer, Carolyn Kurth, CohnReznick; secretary, Rebeccah Eldridge, Baystate Health; director, Susan Labas, Zelm Engineers; director, Melissa Roy, Tecton Architects; director, Nichole Petersen, Flow Tech; and director, Tracy Caisse, SLAM Collaborative;
New Jersey chapter board of directors include: President, Anne Marie Almasi, Almasi Companies; secretary, Laura Bianchini, Almasi Companies; treasurer, Amy Benbrook, CohnReznick; director, Christine Rufolo, Jingoli; director, Lisa Chowansky, HC Constructors, Inc; director, Tricia Russell Vohden, Vericon; and director, Carissa Clements-Mook, True & Associates.
Philadelphia board of directors includes: President, Ronda Bailey, R Bailey Consulting; vice president, Melissa Rysak, EDiS; treasurer & secretary, Amee Farrell Kaplin Stewart Meloff Reiter & Stein; national board liaison, Leslie Whitby, Stantec; member-at-large, Megan Holmes, Stantec; member-at-large, Christine Hough, Langan; member-at-large, Amy Novak, Torcon; and member-at-large, Jennifer Unterberger, Brandywine Realty Trust.
Boston chapter board of directors include: President, Diana Nicklaus, Saam Architecture; vice president, Sara Bryant, Murtha Cullina; treasurer, Ben Sawa, GEI Consultants; director, Sarah McGillibuddy; director, Rachel Woodhouse, Dyer Brown Architects; director, Chelsea Christenson, Nitsch Engineering; director, Caroline Fitzgerald, BOND; director, Emily Hopps, Simpson Gumpertz & Herger Inc; director, Deborah Myers, DMLA; director, Susan Wisler, Architectural Engineering, Inc; and director, Shelley Vanderweil, Vanderweil.
Following the summit, PWC hosted a member-only networking happy hour to invite PWC members to meet the visiting board of directors.
The mission of PWC is to advance and promote women in the construction industry. The inaugural National summit will support the organization in continuing to expand and grow this mission.