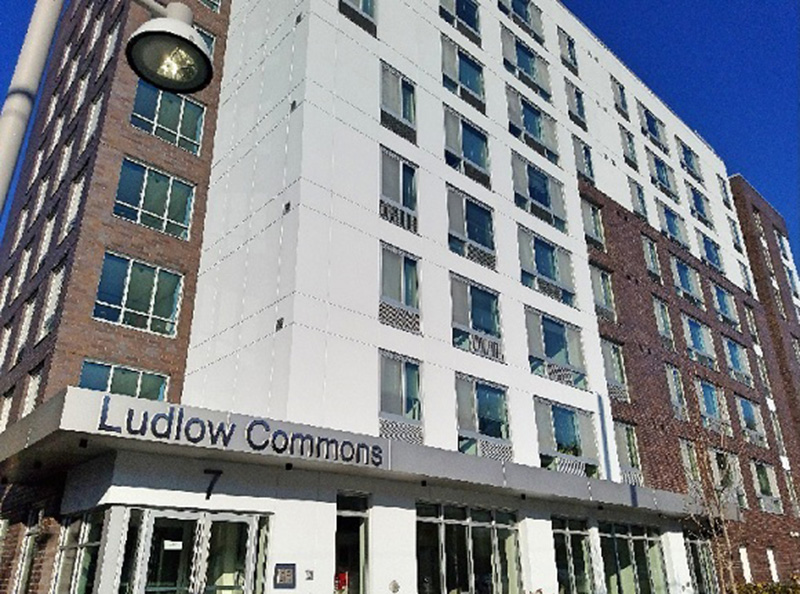 Yonkers, NY What may be the last affordable senior housing development funded under HUD's 59-year-old Section 202 program in the NY metro area has been completed, and tenants are moving in, according to Fernando Villa, AIA, partner-in-charge of the project at Magnusson Architecture and Planning PC (MAP). A ribbon-cutting ceremony was held on April 9th.
Developed by Westhab, Inc., Ludlow Commons is an eight-story, 71-unit building at 7 Ludlow St. Located on the perimeter of the downtown area, Ludlow Apartments is close to the retail and community center of the city, as well as the Metro North train station and city buses.
Villa said that new construction under the Section 202 program has not been funded by HUD for the past several years, and consequently, no future projects under its auspices are currently in development.
Designed by MAP under HUD 202 guidelines, Ludlow Commons comprises 70 one-bedroom apartments and one two-bedroom super's unit with full kitchens and bathrooms.
"Westhab has done a wonderful job of promoting access to nature," said Villa. "With the combination of a generous landscaped backyard, a landscaped front yard, and large windows framing views of the outdoors, plus a prominent view of Hudson River from each elevator lobby."
A glazed residential lobby with views to the landscaped areas and three offices, occupy the ground floor at Ludlow Commons. A partially-covered outdoor pickup/dropoff area, mail room, exercise room, community room with kitchenette and laundry room will also be accessible at this level. The senior units are designed with large windows to maximize views and natural daylighting. Both staircases encourage active use through colorful wall colors, and large windows.
The building has a host of sustainable strategies, including LVT flooring, linoleum Forbo floors, porcelain floors (with recycled content), high-performance and energy efficient windows, and minimized thermal bridge detailing. LEED Gold certification is expected, as well as NYSERDA's Energy Star Multi-family Program compliance.
Founded in 1986, Magnusson Architecture and Planning (MAP) has pioneered outstanding building design and urban revitalization projects as the foundation for vibrant and sustainable communities.