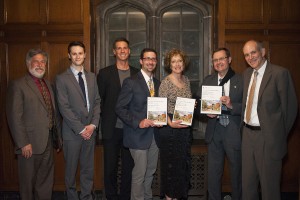 SWBR being honored with the Merit Award for the State University of New York College at Brockport Liberal Arts Building.
Rochester, NY SWBR Architects was recognized by the Rochester chapter of the American Institute of Architects (AIA) with a Merit Award for the State University of New York College at Brockport Liberal Arts Building. The Design Awards encourage excellence in architectural design to make the public more aware of the potential of the human-made environment and to honor the  architect, owner and builder of significant projects. The college's new three-story, 61,000 s/f LEED Gold Liberal Arts Building opened last fall and the team was honored at the annual AIA Rochester Awards ceremony in June.
"The liberal arts are the bedrock of a Brockport education, and virtually every student who enters this institution as a freshman will walk through these doors," Brockport president John Halstead, Ph.D., said. "What they will be taught will prepare them for whatever career path they continue on, using skills from critical thinking and communication to creative problem-solving and collaboration. These are the skills that employers say they need. This is what a liberal arts education provides."
The $29.3 million facility serves as the new home of Brockport's departments of English, History, Modern Languages and Cultures, Philosophy, and Women and Gender Studies. Located on the south side of campus, to the east of Drake Memorial Library, the building features a tiered 200-seat auditorium, two 70-seat divisible classrooms, three 35-seat classrooms and two 25-seat seminar rooms.
It also features a gallery that houses the E.E. Cummings collection, artist-made benches that feature ash wood cleared from the building site, original artwork by regional artists and exterior balconies.
The purpose of the design was to create a building that was an impetus for enhancing the four core areas established by the college to obtain optimal student success and national recognition.
The team was focused on designing the building to maximize the experience of learning environments and quality of place, as well as providing academic engagement. SWBR worked closely with the State University Construction Fund and the College at Brockport to create the desired mix of classroom sizes, teaching/learning styles and flexibility. The team recognized the synergies of the chosen site (located across the street from the Tuttle Complex) and how it related to the four core areas. Studying the pedestrian traffic flow allowed the team to develop collision spaces along internal streets, where faculty and students can informally gather and engage as an extension of the formal learning environment.
Special features — such as a natural landscape with integrated bio-retention system, natural and artificial sun shading techniques, bird-friendly glazing and furniture made from trees that were on the building site — also helped the Liberal Arts Building earn Leadership in Energy and Environmental Design (LEED) Gold certification.