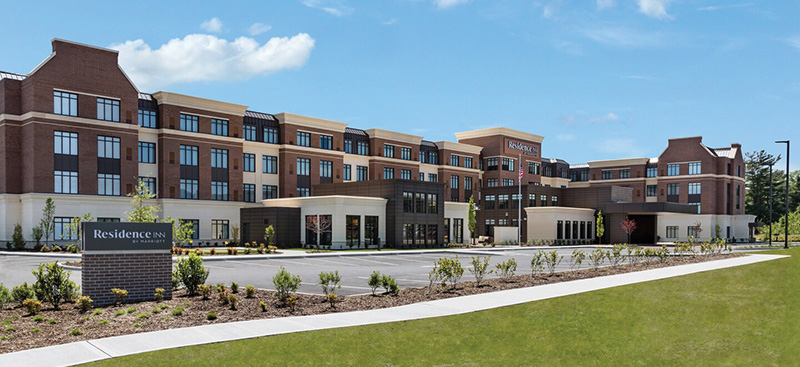 Garden City, NY Racanelli Construction Co., Inc., a leading construction management, general contractor and design/build resource for commercial, industrial, retail, medical, pre-engineered and multi-unit residential projects, completed a four floor, 163-unit extended stay hotel. Racanelli served as the general contractor for the project which was awarded by its owner, OTO Development, LLC. Racanelli previously served OTO Development in the 2012 construction of a Hyatt Place.
This latest hotel project incorporates a fitness center, guest laundry, swimming pool, outdoor dining and putting green. As part of its GC role, Racanelli sculpted a neighboring recharge basis to provide new drainage for the project. Additionally, the road leading to the hotel property was improved with new turnarounds, drainage, striping and traffic signals.
Among the materials used in the project were a structural metal panel system with Glen Gerry masonry, stucco, aluminum composite material (ACM) panels, and glass fiber reinforced concrete (GFRC) panels for the façade. The hotel features a contemporary exterior with modern interior design which adheres to the Module 14 specifications.
Serving on the Racanelli team for this project were project executive Richard Racanelli, senior project manager Steve Peragallo, project manager John DeRosa and assistant superintendent Sean Judson. The only challenge they faced were design and installation delays stemming from the Village of Garden City Water Department's challenges relating to the project's infrastructure.
The project, which began in January 2018, is valued at $29.7 million.

Thanks for Reading!
You've read 1 of your 3 guest articles
Register and get instant unlimited access to all of our articles online.

Sign up is quick, easy, & FREE.
Subscription Options
Tags: