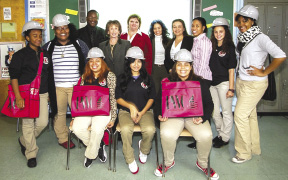 Students at Bronx Design & Construction Academy surround faculty and PWC speakers. Shown in back row (from left) are: Osten Pinkney, Lenore Janis, Dorothy Wasiak, Kristen Storino, Anita Konfederak, and Tamara Hughes. Photo Credit: Tomasz Terpilowski, PCGN

Thanks for Reading!
You've read 3 of your 3 guest articles
Register and get instant unlimited access to all of our articles online.

Sign up is quick, easy, & FREE.
Subscription Options