Professional Profile: Mohammad Mansoor 2022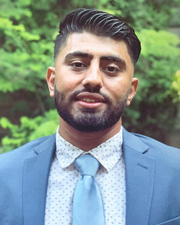 Mohammad Mansoor
Name: Mohammad Mansoor
Title: Director of Acquisitions
Company: Kings Capital RE
Location: 1690 East 14th Street, Suite 2, Brooklyn, NY 11229
Birthplace: Peshawar, Pakistan
Education: Accounting and Finance Degree from Baruch College
First job: Middle school basketball coach
First job in real estate or allied field: Leasing agent at 25 Realty
What do you do now and what are you planning for the future? At the moment I am spearheading Kings Capital's out of state multifamily expansion. Currently we are in contract for a 200-unit value-add opportunity in Houston, Texas with a few more deals in the pipeline. My role is to procure and underwrite these deals to make sure they fit our and our investors criteria.
One word to describe your work environment: Determined
Two things on your bucket list: Travel the world and build schools in the places that need it the most.
Favorite vacation destination: Lisbon, Portugal
Favorite book: "The Kiterunner"
Favorite movie: "The Godfather" part 1
I can't wait for the next season of: THE NBA
Have you ever been told you look like someone famous? Who? Dav Patel
If you could invite one person to dinner (living or dead, but NOT related to you) who would it be and where would you go? Muhammad Ali - The Greatest
Rules to live by in business: You live and die by your word.
What is your DREAM job? (NOT your current job) Either as an NBA head coach or GM.