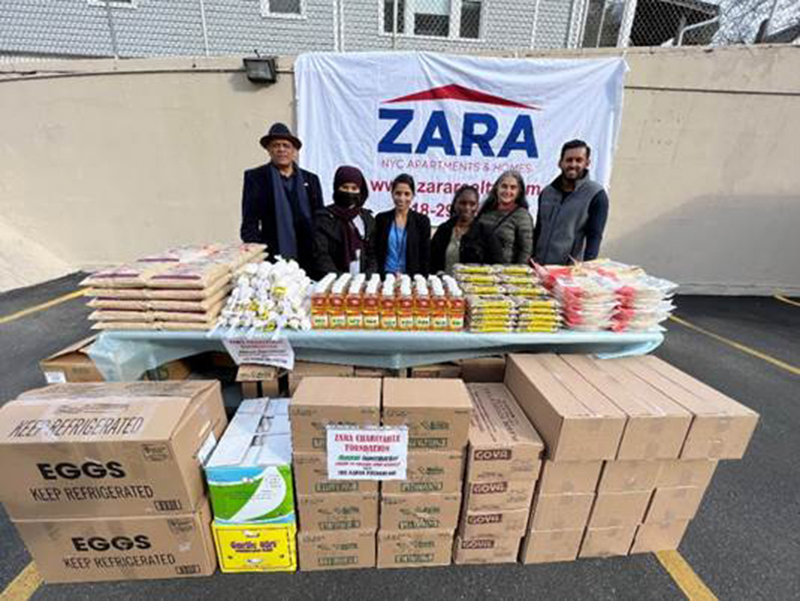 Queens, NY Zara Charitable Foundation and Mannan Supermarkets launched a new initiative to confront food insecurity among children in Queens County.
This comes on the heels of federal cuts to nutrition programs–mainly Supplemental Nutrition Assistance Program (SNAP) and the Special Supplemental Nutrition Program for Women, Infants and Children (WIC).
These programs are being significantly reduced from higher payment levels during the pandemic, causing hardship to millions on the margins. One in five children (20.5%) in Queens County lack reliable access to nutritious food, according to data collected by Feeding America in 2020.
"Many families are struggling to put food on the table and, after both SNAP and WIC resources got reduced, we knew how important it was to step up and help hardworking families maintain access to fresh, nutritious food," said Tony Subraj of Zara Charitable Foundation.
The U.S. Department of Agriculture (USDA) reported 32.1% of households with annual incomes below the official poverty line were food insecure in 2021.
National rates of food insecurity were highest for households headed by single mothers at 24.3%, as well as households headed by African Americans (19.8%) and Hispanics (16.2%) in 2021. Specific to New York City, hunger afflicts an estimated 432,960 school age children that are food insecure, with rates of food insecurity more than doubling for families of color.
"Food prices are increasing at the same time inflation is eating away at the value of money at the same time food benefits are vanishing, making it three times more expensive for families to afford to eat healthy," said Mahinur Rahman of Mannan Supermarket. She added, "When Zara suggested we work together to secure fresh, culturally relevant food to help people make ends meet, we were proud to supply the need."
Zara committed to underwrite the cost of 12 months–365 days–of fresh, culturally appealing food items from Mannan Supermarket to feed 200 diverse families served by The Gaton Foundation, a non-profit providing access to proper nutrition, wellness, and a better well-being to people and animals in need.
The initiative began on March 1 with Mannan Supermarket in Jamaica, Queens donating enough groceries to feed over 200 families in need through Richmond Hills High School. This was Mannan Supermarket's first significant donation of any kind. The types of culturally sensitive foods supplied included: Roti, Lentil, Tortillas, Rice, Cheese, Butter, Bread, Oil, Mayonnaise, Crushed Tomato, Peanut Butter, and Canned Beans.
The provided groceries virtually double Gaton's food distribution efforts, feeding an estimated family of five between two weeks and a month, depending on how families spread them out.
According to The Gaton Foundation, receiving families are often multi-generational or part of multi-family homes where an extended number of people depend on the limited provisions and adults in the household often work multiple jobs.
"Zara's and Mannan's decision to create access to fresh, cultural groceries will make the difference between some families keeping their lights on and others being able to afford medicine for health needs," said Angela Gaton-Wiltshire, Richmond Hill High School bilingual speech therapist and founder of The Gaton Foundation and the "Give&Go" project which has been delivering food to families since December 2020. "As others retreated from fighting hunger, Zara and Mannan stepped up to join the fight against hunger. Their courage and compassion is appreciated by all the families served.
With their efforts, Zara, Mannan and the Gaton Foundation seek to stir a dialogue among families, school administrators, community nonprofits, food establishments, federal, state, and local governments, and businesses from all five boroughs about how to bring community stakeholders together to address the growing food insecurity crisis.
"Lack of access to nutritious food is a significant barrier to education, development, and harms health outcomes. Hungry students often struggle to concentrate in class and struggling families turn to junk food to not starve. With healthy food options, both students and families can stay healthy and focus on succeeding in life," said Amir Sobhraj of Zara Charitable Foundation.