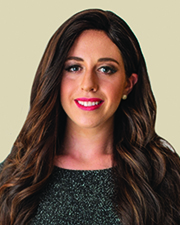 In the last 12 months, what was your TOP career highlight? Opening and funding my first 506C fund has been a highlight.
In the last 12 months, what ONE award were you most proud to receive? I received several charity awards which I am most proud of. Giving back to less fortunate individuals is a priority.
In the last 12 months how have you helped your industry grow through professional creativity, innovation and leadership? My team and I purchased 15 large commercial properties nationwide, including office, industrial and NNN retail properties. Additionally, I successfully connected a significant amount of CoGP equity. Networking and hardworking skills have enabled the above.
What advice would you give the next generation of women in your industry? I have been a guest on many podcasts and took on many speaking engagements with the purpose of inspiring women and mothers to achieve their goals and dream big. Best advice to give others: As a speech-language pathologist turned real estate professional, I show women that it is never too late to switch careers and pivot into something that serves one better at the time.