Name: Sophia Perna-Plank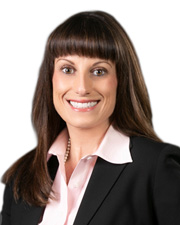 Title: Associate
Company Name: Jaspan Schlesinger LLP
List real estate associations or organizations that you are currently a member of:
Real Estate Institute (REI) at Stony Brook University
How do you contribute to your community or your profession?
At my firm, I work closely with our marketing/business director to coordinate charitable donation drives. I donate my personal time, shopping for donation items with money the firm's employees generously give. These drives have included a winter coat drive for military families and veterans, a food drive, and a dog and cat supply drive to benefit Paws of War and the organization's animal rescue efforts and the support dogs they train and place with disabled first responders and military veterans. As for giving back to the profession, I'm a member of the paralegal advisory committee at the Maurice A. Deane School of Law at Hofstra University.
Favorite quote:
"Go confidently in the direction of your dreams! Live the life you've imagined." –Henry David Thoreau
What recent project, transaction or accomplishment are you most proud of?
As a result of the pandemic, I have been able to represent commercial landlords in several big retail bankruptcies. I have appeared in the bankruptcy courts in New York, Texas, Delaware, and Virginia on behalf of my clients.