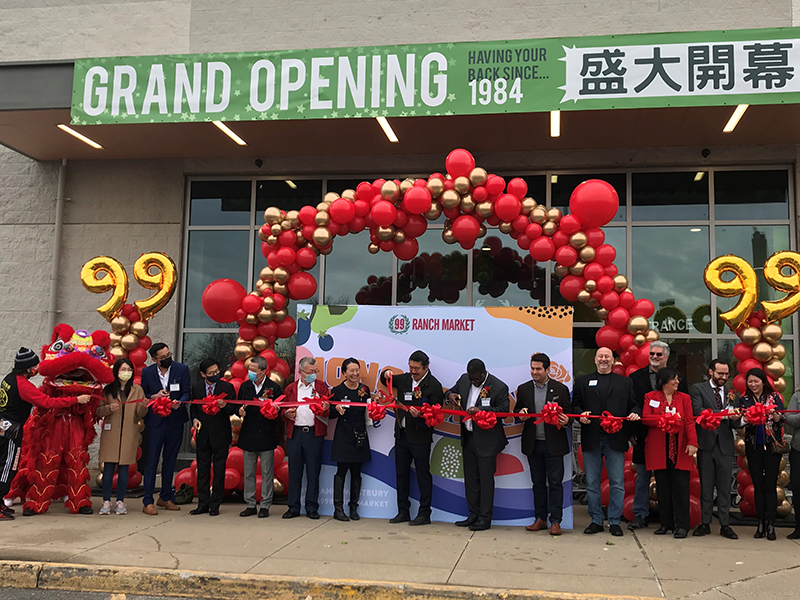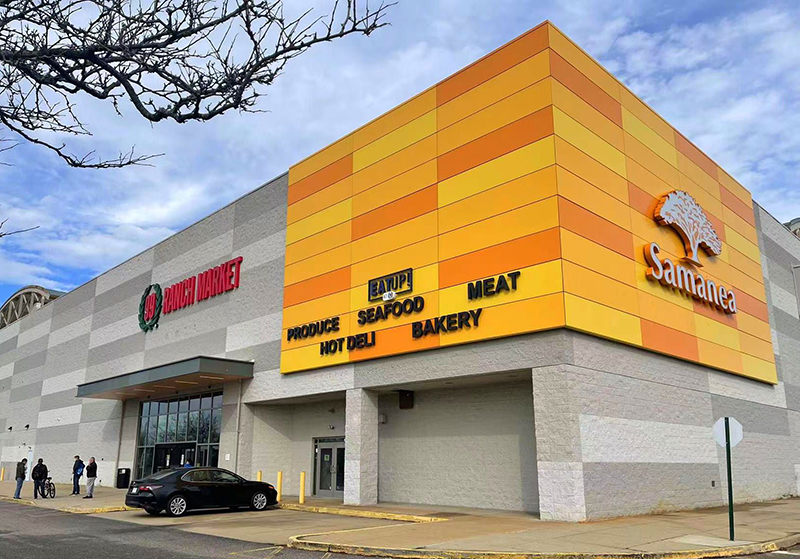 Westbury, NY Samanea New York, the new retail, entertainment and dining destination located at 1500 Old Country Rd., welcomes 99 Ranch Market to its property. A leading Asian grocery store chain based in Buena Park, CA, 99 Ranch has 56 stores across the U.S., with its new location as its first on Long Island and in New York state.
99 Ranch opened its doors to Long Islanders on April 9, 2022 at 9:00 AM. The 45,602 s/f space includes over 10,000 items from around the world including unique Asian dry groceries, produce, meats and poultry, seafood, deli items and baked goods. The market aims to bring its Asian culture to Long Islanders with high quality Chinese cuisine including dim sum, barbecue, noodles, cakes and confection. An "Eat Up" Food Court is also planned where other new tenants offering Asian cuisine will join 99 Ranch on the property.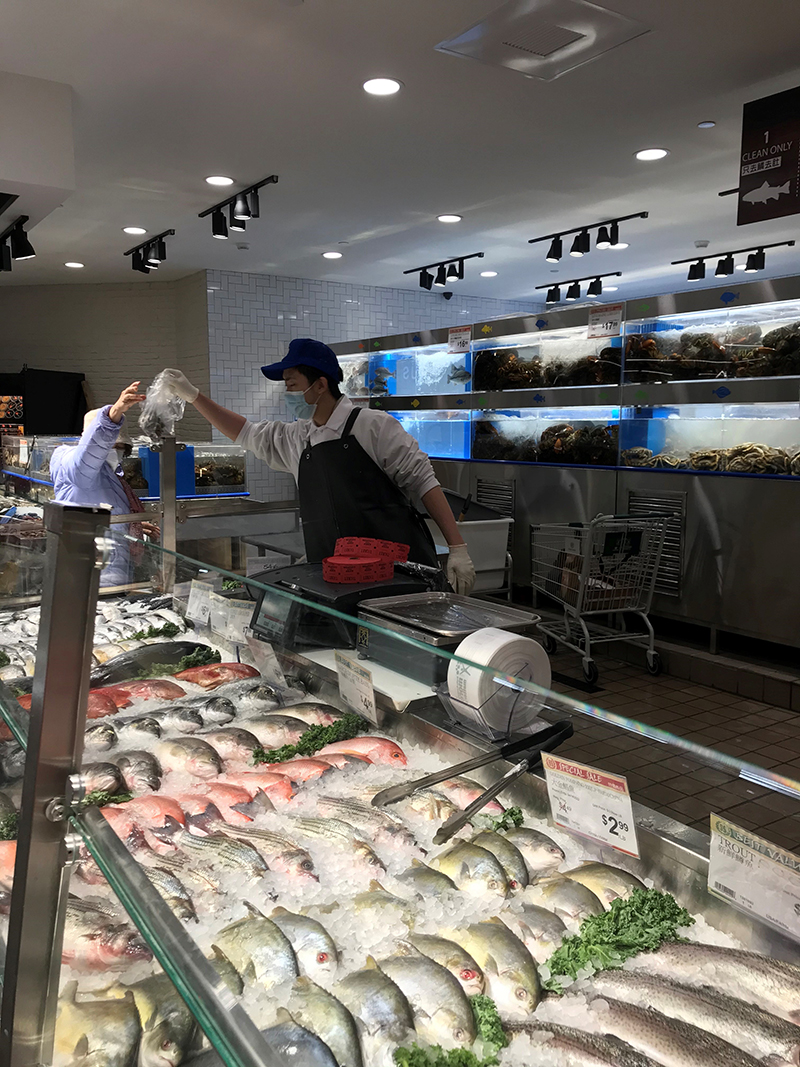 The second anchor tenant to open its doors on the new Samanea New York property in over 20 years, following Bloomingdale's Furniture Outlet that opened in September 2020, Samanea New York signed a 15-year lease with 99 Ranch in April 2020, during the COVID-19 shutdown. It is the property's second largest anchor tenant following Dave & Buster's. Located in former tenant Circuit City's space when the property was known as the Mall at the Source, the 13-month construction initiative for 99 Ranch began in January 2021, and was spearheaded by Samanea NY's Tammy Ching, director of tenant management.
"We are excited to welcome 99 Ranch to Samanea NY and couldn't be more thrilled that this nationally recognized, authentic food market chose us as its first location to the New York market, which complements Samanea NY's restaurant row on Old Country Road and contributes to the property's unique tenant roster. Welcoming 99 Ranch to Samanea NY would not be possible without our talented team and our focus to transform this iconic site into a unique lifestyle destination," said Dominic Coluccio, Chief Leasing & Development Officer, Samanea New York.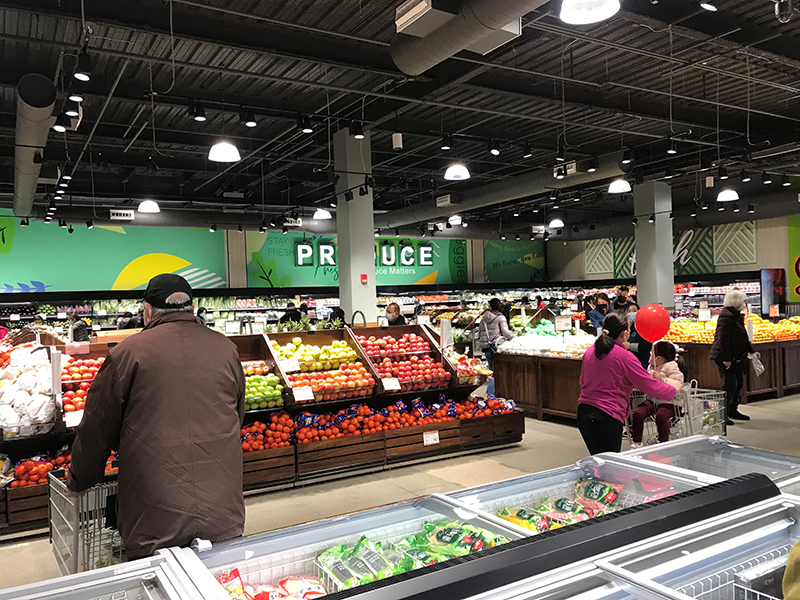 99 Ranch shared, "We are looking forward to catering to the local and Asian Long Island communities by providing the highest quality and freshest merchandise at an affordable price. To Asian Americans residing on Long Island, we are their home away from home. To all other ethnic groups, we are the link for you to experience and learn about Asian cultures."
Samanea New York recently underwent a $30 million reimaging. Among the significant structural changes to the property are two new main exterior entrances: one, on Old Country Road on the North West side of the property; the second, on Merchants Concourse on the North East side of the property.
Samanea New York tenants include Bloomingdale's Furniture Outlet, Dave & Buster's, The Cheesecake Factory, Fortunoff Backyard Store, 99 Ranch Supermarket, Empire Adventure Park, The Gravity Vault, Leonardo Furniture, X-Golf, MyPlanet Living Center, Arteco Cabinetry,Let's Craft, K-Pot Korean BBQ, Szechuan Restaurant, MoCA Asian Bistro, Frank & Camille's West Pianos, and Leon Banilivi Rugs.. Samanea New York is exclusively represented by Colliers International: Herb Agin, Matthew Kucker, and Jordan Baruch.