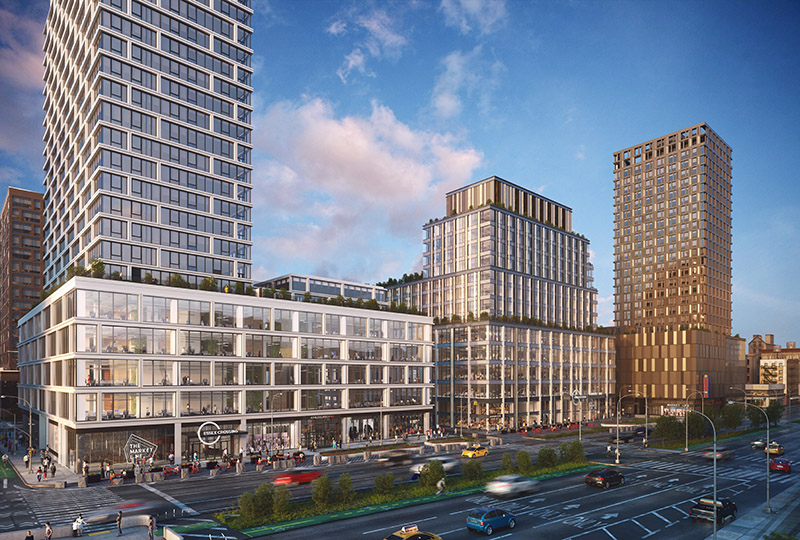 Manhattan, NY According to Delancey Street Associates, a joint venture of Taconic Partners, L+M Development Partners, BFC Partners, the Prusik Group, and the Urban Investment Group within Goldman Sachs Asset Management, Verizon has leased 140,000 s/f of class A office space at Essex Crossing. Verizon will become the megadevelopment's anchor office tenant – another promising sign of market recovery in the city as major businesses return to the urban office environment in large numbers.
"Essex Crossing represents the future of work, and Verizon took notice," said Charles Bendit, co-founder and co-CEO of Taconic Partners, the partner leading the commercial development, leasing and management of the offices. "Tenants will enjoy an amenity-rich campus environment, with every need just steps away. Over one hundred food options, convenient transportation, private outdoor space and more. This lease is a jolt of confidence in New York City's return to office and demonstrates that employers are still committed to providing employees with a superior, highly curated workplace experience."
Verizon will house its marketing group within the Lower East Side space. The company has leased 155 Delancey, one of Essex Crossing's two office buildings.
Cushman & Wakefield's Josh Kuriloff, executive vice chairman, Andrew Braver, managing director and Peyton Horn, executive managing director represented Verizon in the transaction.
Comprised of nine sites, nearly two million s/f and costing an estimated $1.6 billion, the entire Essex Crossing development includes 350,000 s/f of office space; over 1,000 residences; 300,000 s/f of retail; and 100,000 s/f of green space and the recently opened Market Line, which when complete will have over 150 food and beverage vendors.
The Offices at Essex Crossing are paving the way for a revitalized commercial landscape. Comprised of 350,000 s/f amongst two buildings (145 and 155 Delancey), the offices feature floor plates ranging from 35,000 – 52,000 rentable s/f for maximum flexibility, private outdoor terraces and open green space, tenant-controlled HVAC systems to help combat the spread of airborne viruses, and in-office bike storage with showers and lockers. The Offices at Essex Crossing is accessible by foot and bike, with over 13 Citi Bike stations on campus, and direct access to beloved vendors at the Market Line and Essex Market. The deal confirms the global flight to quality, where leasing activity is geometrically higher in newly constructed developments like Essex Crossing.
"We're proud to have prepared the groundwork for Essex Crossing, a project that reflects community input and will contribute to the vibrant Lower East Side community. It will bring affordable housing, along with public market retail areas, offices, and green space," said NYCEDC president and CEO Rachel Loeb. "The addition of an anchor office tenant demonstrates we can provide world-class workspaces and amenities while ensuring the neighborhood remains accessible and affordable for all New Yorkers."