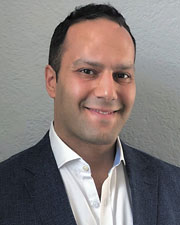 Name: Dan Bsharat
Title: Managing Director
Company Name: Hudson Hill Partners
What was your most notable project, deal, or transaction in 2020?
At the onset of the pandemic we were approached by an owner of a portfolio of three multifamily properties in Westchester who was retired and living in Florida. He had owned the properties for over 40 years and was looking to us to bring certainty in closing despite the uncertainty of the pandemic. While we faced a challenging environment, we successfully completed the transaction as agreed. The buildings have been a great addition to our portfolio, within our target market and walking distance to several other assets we own in Tarrytown, NY.
What are your predictions for commercial real estate in 2021?
The successful rollout of several vaccines along with additional stimulus and economic aid should strongly propel the economy forward in 2021. The promise of continued low interest rates will result in downward pressure on asset pricing, specifically for Multifamily and Industrial. Within Multifamily, we will continue to see a bifurcation in the market. Rental demand for affordable and middle-income housing will remain strong. Due to oversupply and preference for space, the luxury rental market will continue to be deflated.