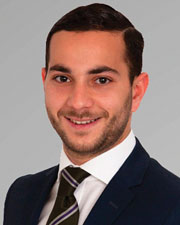 Name: Isaac Shrem
Title: Director
Company Name: Westbridge Realty Group
What was your most notable project, deal, or transaction in 2020?
Right before the pandemic, we closed on the sale of a three-family building in the Claremont section of the Bronx. The purchaser planned to convert the building to 13 units. We helped the developer secure a longer closing giving him the ability to file plans while in contract. This began a domino effect of smaller redevelopments all over the Bronx. There is less risk with smaller projects, especially if you have time to file plans before the closing. It is crucial that seller's give favorable terms, especially in today's market, allowing for deals to continue even in a tumultuous environment.
What aspects of working from home did you enjoy most?
Within the first few months, I really loved not having to commute to Manhattan (I live in Brooklyn). Just like the rest of the world, I thought working from home was the next best thing. Come June, I was practically begging to go back into our office! An office has a different aura than working remotely. Once at my desk, I'm totally zoned in, which in the later months of COVID, I found harder to do at home. Besides, collaboration is still best in person, but it's done differently now. It hasn't stopped but just changed until further notice.