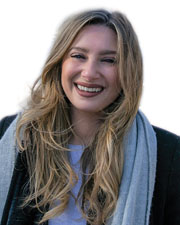 Name: Jenn Smaragdas
Title: Director of Operations
Company Name: C3S CoRE Consulting, Inc.
List up to three associations or organizations that you are currently a member of:
Mortgage Bankers Association of New York (MBA of NY) Scholarship Foundation
MBA of NY
Variety Boys & Girls Club of Queens, Young Professionals Committee
What recent project or accomplishment are you most proud of?
I am most proud of the determination and strength of my team through this pandemic. We have all worked together as a unit to overcome the challenges brought upon us, both professionally and personally. We've been able to sustain our business model and quality services, adapt to the changing CRE environment, and protect our clients' interest while building and entering new markets. It speaks volumes to the professionals and people we have working with us.
What is one characteristic that you believe every woman in business should possess?
Women are naturally resilient beings; we're built this way. Confidence though will propel you to that next level. It is the single most important trait that most women struggle with. Believe in the value of what you have to say and that you are worth listening to. With poise, honesty, integrity and a bit of empathy, be confident in what you bring to the table. It's worth it!