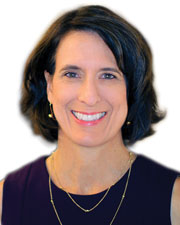 Name: Susan Link, AIA
Title: Senior Architect
Company Name: H2M architects + engineers
List up to three associations or organizations that you are currently a member of:
H2M's Women's Leadership Initiative
American Institute of Architects New York Chapter - Interiors Committee
Trustee for the Glen Ridge Historical Society, Glen Ridge, NJ
What recent project or accomplishment are you most proud of?
This summer, with the AIANY Interiors Committee, I organized a design contest called Recipe For A Room which paired 10 New York City architecture students with New York City architect mentors to design small scale rooms for example a restaurant, kitchen, bodega or market, built of edible materials and incorporating COVID-19 area space planning guidelines. We wanted to celebrate New York City restaurants, which consider food as an art form, during this "year of eating in." The student presentations were amazing, with time-lapse videos set to music. Fun was had by all and the proceeds raised by the contest were donated to the New York Restaurant Employees Relief Fund.
What trend(s) will dominate your industry in the next year?
I see two major trends dominating both our projects and A/E firms in 2020-2021. One is that upgrades, remodels and new-builds are laser-focused on creating healthier indoor environments. Clients are responding to COVID-19 with enhanced mechanical systems, flexible workspaces for smaller groups, touchless entries, and moving outside into "3-season" living spaces. Also, within the A/E firm it is refreshing to see a greater acceptance of hybrid Work From Home/in-office work schedules combined with more empathy/awareness for the unique needs of individuals within a large company.